Blog > Checklist: packing for a holiday with children on the beach
Checklist: packing for a holiday with children on the beach
12/07/2017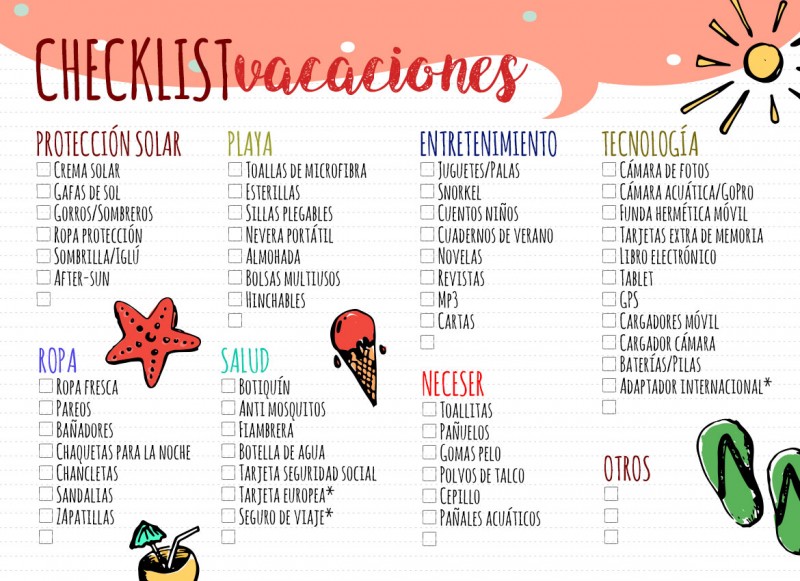 The sun on the skin, the sound of the waves, the smell of the sea, stroll along the shore ... Summer means beach, beach bars, holidays and rest by the sea. Nothing should spoil that sense of calm, not even the stress of packing to go to the beach with children.
Whether we are going to spend a weekend or a full month, the time to start packing for a beach vacation can be a bit overwhelming when traveling with young children. We tell you some tricks and essential for this task to be a blink of an eye.
Protection and hydration:

It never hurts to repeat it even though we have heard it a thousand times: the skin of children and babies is more sensitive to the sun's rays. Do not forget to put a + 50SPF sun cream in your beach bag and apply it frequently. One complement to protect the skin of the little ones are the t-shirts and swimsuits with certification UPF that protect of the UV rays. Putting caps and sunglasses on backpacks for the beach is also recommended.
Even if we pack a lot for our luggage for the beach, an umbrella or a solarserán igloo will be essential if we go to the beach with babies or children. It is also important that children do not dehydrate after spending hours playing in the sun. Carrying a bottle of water or fruit in a lunch box or isothermal bag is the best way to keep food safe and safe for consumption.
Luggage set:

Although packing for a beach vacation with children may seem stressful, we can make it a game for kids and parents! Involving children in preparing their bags is a way for them to learn to be more organized.
Giving them their own travel bag and bag will also learn to be more responsible and orderly. The most important thing is that it does not seem punishment or an obligation to them but a natural and fun task.
Time for fun:

The beach is a great place to spend the summer days with children. Do not forget to carry buckets and shovels for sand, shovels and inflatables for children to entertain and let their imagination run wild. To prevent everything from getting wet or filled with sand, wear multi-purpose bags to separate toys and wet clothes from other things in the beach bag.
And let's not forget the hobbies for parents too. If you take books or magazines to the beach or technological gadgets like the camera or a tablet, take everything well protected from sand and water in a special bag or shoulder bag.
The Magic List:

To list everything we need is essential to not forget anything when it comes to packing with children to go to the beach. To write a perfect list you have to take into account the age of our children and the days that will last the vacations. Ideally, start writing the list a few days before the holidays and do it by categories: clothing, sun protection, toys, technology, etc. So surely we do not forget anything. Once you have your bags ready for the beach do not drop the list: save it for the next vacation or for other trips and adapt it according to each season of the year.
You can start with our List to travel to the beach with children and add what you need according to your vacations.
---
Send to a friend
Return to the list